Posted in Snacking on June 30, 2016
"American as apple pie" is more than just a saying. It's also a great mantra for any operator focused on boosting Fourth of July sales. Even as Americans are increasingly seeking ethnic and global flavors for everyday meals,1 when it comes to celebrating our nation, the country's consumers want all-American foods and flavors.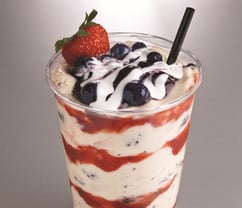 As Fourth of July is often an at-home celebration, operators who want to grab a slice of the profits have to be extra savvy to draw the hungry masses. Offering holiday promotions, themed bundles, LTOs, seasonal beverages and special menus jam-packed with picnic food favorites can all help operators grab attention and traffic
1. Bring Out the Backyard Favorites
Burgers, hot dogs, potato salad, baked beans and corn on the cob all rank highly as July 4th food preferences.1 And no meal is complete without a traditional treat like blueberry cobbler, crunchy peanut butter cereal treats and yes, apple pie. Internet searches for cupcakes and fruit pizzas are up 50% and 25% respectively, so now is a great time to incorporate these sweets into your offerings.1 All of these in-demand dishes are great for specialty menus and prepared grab-and-go items.
2. Be More Convenient than Big Box Stores
While 70% of consumers admit they head to the big box stores for BBQ supplies1 , there is still lots of opportunity for smaller c-stores to compete. Be sure to place must-have Fourth of July foods (snacks, treats, and burger and hot dog buns and condiments) and BBQ supplies front and center to help encourage impulse sales.
3. Promote Your Patriotism
Most importantly however, is letting the public know you're a go-to destination for holiday festivities. Does your spot offer excellent fireworks viewing? Then let the world know. Do you have all of the red, white and blue merchandise they could ever need? Show it. Turning your operation into THE place to be for the best July 4th celebration around is awesome—only if the public knows it. So scream it from your social channels. Post specials, events and more. Advertise in-store and out. Whatever it takes to get consumers and patrons in your door.
How do you turn your operation into a July 4th destination? Share your ideas below.
1 Crawford, Elizabeth, Traditional foods dominate fourth of July menus, June 29, 2015, http://www.foodnavigator-usa.com/Markets/Traditional-foods-dominate-Fourth-of-July-menus