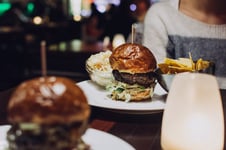 Hold on to your French fries! Fast food seems to be shifting in new directions with ever-accelerating speed. Once upon a time its focus was no-frills fare at an economical price. Now the most appropriate way to describe its relationship with the consumer is: "It's complicated."
As survey data from the market research firm Mintel underscores, consumer demand has shifted from burgers on a budget to premium ingredients like fresh beef (69%) and local ingredients (37%).1 And with 75% of consumers surveyed in agreement that quick service restaurant food is higher quality,1 it's no wonder that fast food chains are stepping up their game.
To appeal to the broadest range of customer preferences and satisfy the millennial appetite for taste adventures, more emphasis is placed on expanded menu offerings, varied cuisines and customization. Think McDonald's Signature Crafted recipes, which provide diverse flavor profiles and allow customers to customize premium burger and chicken sandwiches with toppings and other ingredients.
Citing the rise of multicultural culinary influences in the U.S.—particularly Korean, Filipino and Persian cuisines—QSR magazine anticipates foreign flavors to continue to gain momentum as a fast food trend.2 As Daniel Boutarel, a managing associate at the New England Consulting Group pointed out: "You see this with ramen concepts that are popping up all over the place, especially bi-coastally, looking to making those more inland."2
A Plateful of Potential: Finding the Right Mix
While demand for premium ingredients and bold flavor profiles may be high, survey results from the foodservice research firm Technomic show that reasonable price (61%) and convenient location (57%) remain the top traffic drivers for fast food visits.3 And when it comes to purchase drivers, 41% of survey participants cite high-quality, fresh food, but even more are focused on dollar/value menu (46%) and quickness (52%).4
As a result, balancing price sensitivity and the need for speed with a more premium experience seems integral to the next stage of fast food sector's evolution. That said, the median price of a fast-food hamburger in the U.S. rose to about $6.95 over the last decade—a whopping increase of 54%.5 The median price of a chicken sandwich soared 27%.5
"Consumer dining behaviors and habits are lending themselves to increased costs and rising prices," explained Aaron Allen, a global restaurant consultant.5 "You used to go to fast-food places with $5 and expect to get change. But when fast casual came around, like Chipotle and Five Guys, you expected to hand over $10. This changed how much fast food [restaurants] could charge for a burger."5
Like menu pricing, the cost of expanding market reach is also a concern. Delivery has been a revenue engine for McDonald's, generating $3 billion in business with availability at 19,000 locations in the U.S. and internationally.6
But the cost of delivery through Uber Eats makes margins challenging. As Nation's Restaurant News reported, a survey from the National Owners Association, an advocacy group for McDonald's franchisees, found that a majority supported better terms with third-party providers to make the economics more favorable.6
Whether you operate a fast food, quick service, or any other foodservice establishment, Mondelēz International offers the brands consumers trust and the expertise operators rely on to help boost sales and manage margins. Contact us below for food for thought on how we can make a difference for your business.
3 Technomic, Future of LSR Consumer Trend Report (2018), p. 71
4 Technomic, Future of LSR Consumer Trend Report (2018), p. 72