When you need answers, you gotta go right to the source. In the culinary world that means the innovators, the educators, the trend drivers … oh wait, that's often the same person: the chef.

The National Restaurant Association's What's Hot 2016 Culinary Forecast surveyed 1,300 members of the American Culinary Federation to find out what's big in the year ahead. Here's what they had to say:

Artisan ice creams come in at #1 for predicted overall dessert popularity.1

Add on-trend ingredients to create unique flavors significant to your customers and menu. Does your operation focus on Latin flavors? Maybe it's time to explore avocado- or ghost pepper–infused ice creams.

Bite-size mini desserts were backed by 60% of chefs.1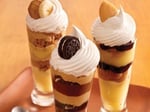 Banana Cream Pie Shooters
They're a great way to offer little sweet fixes or dessert "flights" that allow for more sharing and sampling. Shrunk-down sizes of classics like Banana Cream Pie Shooters or S'mores Mini Cupcakes are great ways to delight guests.
Savory flavors slide into third place.1
Bacon is still big. And not going anywhere. Try combining sweet and savory flavors for desserts that break out of traditional offerings and attract customers who say they don't have a sweet tooth.
Smoked dessert ingredients are seeing an uptick in popularity.
54% of chefs agree that smoky-flavored dessert ingredients will be hot this year,1 making it their #4 choice for innovative ideas. Just look at Chef Zach Meloy's Better Half menu. The Atlanta restaurant flaunts a Black Cocoa Sponge Cake which Chef Meloy paired with moist, Texas-style buttermilk sheet cake. Can you say "yummmmmm"? If you want to serve something similar, try smoking the cinnamon in this Toasted Mexican Chocolate Ice Cream Pie recipe.
Hybrids are still hot despite a dip in demand.
Who can forget that magical doughnut + croissant mashup? It introduced the idea of decadent mashups and nearly sent sweets lovers into a mass hysteria. And while hybrids didn't gain as much traction in 2015, 52% of chefs are confident the concept will remain a top 5 trend in the new year.1
So with 2016 in full swing, it's time to start thinking about ways to incorporate these exciting trends into your menu. And don't forget to check out all Top 10 Snack and Dessert Trends for 2016.

Which dessert trends do you plan to incorporate into your menu? Share your ideas and recipes below.
1. National Restaurant Association, "What's Hot 2016 Culinary Forecast."