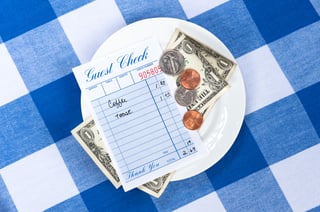 Danny Meyer (aka "Mr. Hospitality") sent shockwaves through the foodservice world when in 2015 he announced that his company, Union Square Hospitality Group, would no longer allow tipping. He was at the forefront of a trend: The elimination of tipping gained traction as a way to create a better working environment for servers by making them less reliant on tips.
Fast-forward to 2016 when The Food Channel calls out the no-tipping model as one of the year's top trends. More and more independent restaurants are now replacing tipping with regular working wages for waiters. Joe's Crab Shack led the way for national chains to adopt the policy. The consensus is that offering stable salaries to servers provides greater balance and fairness in compensation across the staff. That could boost morale and lead to better service, more customers and higher profits from week to week.1 Happier servers move more menu items!
Sounds sweet, right? Many in the industry consider tipping to be an antiquated form of payment that often pits servers against each other. But what do consumers think? Many of them who eat out frequently are concerned that removing the incentive of a tip will actually cause the quality of service to decline.1
We like to say the customer is always right, but that may not hold true in this case. Tips are not always an accurate measurement of the quality of the service. After all, they leave servers at the mercy of the customer and can be biased. Tipping can reflect the mood of the customer more than the quality of the service.1
While foodservice operators continue to weigh the pros and cons of tipping, the fact remains that excellent customer service is key to your operation's success. Only you—and your profit margin—can say whether the service at your operation has reached a tipping point.
How has tipping affected your business? Weigh in on the debate below.
1. Foland, Kaitlan, "A No Tipping Future?" The Food Channel blog, Dec. 21, 2015, http://www.foodchannel.com/articles/article/no-tipping-future/