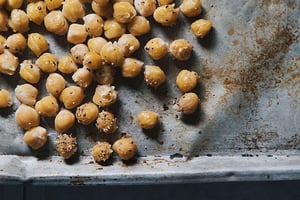 In a youth-driven snack market hungry for menu innovation, alternative ingredients have been going through a prolonged growth spurt. Families with children drive the market, and as younger generational cohorts (and their buying power) grow, sales are likely to grow too.1
The popularity of alternative-ingredient snacks are on the rise as demand for better-for-you options steadily increases, particularly in the salty snack segment. The alternative-ingredient snack market posted a 7% growth rate in 2016—a faster rate than salty snacks as a whole.2
Given that over a 10-year period the percentage of adults who prefer to eat better-for-you snacks has jumped from 24% to 30%,2 alternative ingredients seem poised for ongoing growth. And their popularity is propelled just as much by satisfying flavor profiles as by high nutritional value.
Data Shows Pulses' Potential to Grow a Higher Check Average
Survey data from Packaged Facts, a market research publisher covering food, beverages and consumer packaged goods, show that taste is the top reason upwards of half of adults opt for salty snacks or crackers with specialty ingredient formulations.3
In particular, the vegetable-based snack trend is generating a lot of green, sprouting 45% of dollar sales in the category.3 Close behind with 40% of the salty snacks segment are grain-based fare, including GOOD THiNS from Mondelēz International.3
Spurred on by demand for new and exciting better-for-you ingredient formulations, outgrowths of the plant-based foodservice trend are bound to spring up. Enter the power of pulses (nutrient-packed dried seeds of plants from the legume family, including peas, edible beans, lentils and chickpeas) to propel sales.
A source of both protein and fiber,4 with versatile applications for a wide range of recipes, pulses would seem close to the heart of wellness-oriented millennial snack adventurers. While pulse-based snacks account for only 15% of salty snack sales in the alternative-ingredient category, their profile has grown increasingly visible.3
The Seeds of a Plant-Based Sensation Bear Foodservice Fruit
The growth trajectory seems clear: a 74% increase in pulse-based new product launches from 2010 to 2014, followed by a 34% increase in U.S. household penetration between April 2014 and March 2015.4 In 2016 (declared the Year of the Pulses by the United Nations), chickpea-based pulse snacks sprang up by more than 150%.3
While generic "bean" formulations are increasingly popular, chickpea-flavored varieties are the fastest-growing subcategory for pulse-based snacks.1 Made with real chickpeas and no artificial colors, flavors, cholesterol, partially hydrogenated oils or high-fructose corn syrup, Chickpea Garden & Herb GOOD THiNS have a flavor and nutrition profile well-suited for today's selective snackers.
According to Packaged Facts, the segment encompassing pulses, alternative vegetables and grains will continue to flourish with a compound annual growth rate of 6.2% through 2019.3
The company's research director, David Sprinkle, explains: "Looking at both present trends and towards the future, alternative-ingredient snack sales are going to continue moderate to strong growth over the next few years, building on the larger healthier-for-you trend affecting the overall snack market and on the unique flavors and textures consumers are also craving."2
Learn how our brands can help your foodservice operation capitalize on alternative-ingredient snacking trends. Reach out below to plant a seed that could grow your sales among wellness-oriented millennials and young families.
1 Harris, Doug, As consumers reach for the chickpea chips, can manufacturers hold the salt? Food Dive, Feb. 10, 2017.
2 Convenience Store News, Sales of Alternative Ingredient Snacks on the Rise, Feb 2, 2017.
3 Contreras, Tricia, "New snacks bring plant-based trend to the center of the store," SmartBrief, Nov. 20, 2017.
4 Berry, Donna, Racing Pulses, Apr. 18, 2017.