Posted in Trends on March 14, 2023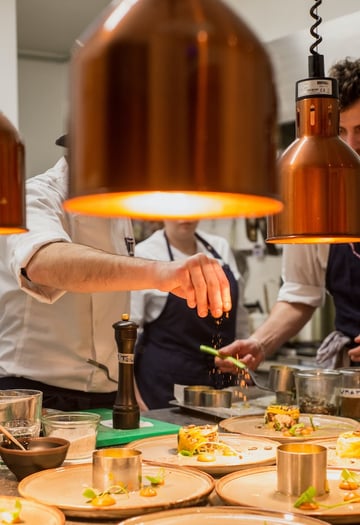 With so many economic challenges on their plate, you might think foodservice operators expect to eat losses in 2023. And yet the market research firm Datassential found that as the pandemic fades and fresh opportunities emerge, a sense of excitement is counterbalancing worry. In fact, 66% of consumers surveyed expressed optimism about 2023.1
Consumers are looking forward to new culinary adventures and intriguing flavor profiles, yet economic headwinds may continue to buffet business and make margins challenging to navigate. "But consumers are also excited for new, exciting flavors, concepts, and experiences," Datassential reports.1 "Three-quarters of consumers want to see new food and beverage trends in the year ahead, while nearly the same number of operators say trends will be important to their business in 2023."1
With 76% of consumers eagerly anticipating robust servings of culinary creativity this year,1 up-and-coming chefs stand poised to satisfy the market's ravenous appetite for menu innovation. An eclectic mix of creative culinary professionals is bringing multi- and cross-cultural influence to the table and marking their mark on menus across the country and beyond.
Three's a Crowd Pleaser: Ovation-Worthy Culinary Artists Cook Up Menu Innovation
Consider Chef Roze Traore, who has used his Ivory Coast culinary heritage, with its emphasis on seafood variety, spices and smoking meat, as a springboard into chef superstardom.
Traore's meteoric rise has taken him from iconic restaurants around the world and landed him frequently on TV and as a regular contributor to NYT Cooking, the prestigious guide to recipes and cooking from The New York Times. A sought-after fashion plate known for his sartorial style as well as his culinary creativity, he was selected by the iconic luxury fashion label Dior last year as head chef of the star-studded 2022 Guggenheim Gala, where the menu boasted elevated fare such as dry-aged ribeye, poached quince and chanterelle mushrooms.2
With an 81,600-strong Instagram following and a passion for fashion and international culinary inspirations, Traore is sure to continue his rise as tastemaker in 2023.
Forbes "30 Under 30" honoree and one of Food & Wine's "Best New Chefs of 2022," Calvin Eng is another celebrity chef who is using his culinary heritage to launch his career into the stratosphere. Eng's Brooklyn, New York, restaurant Bonnie's has gained renown for its creative take on Cantonese American cooking, like his char siu "McRib" sandwich, which uses a classic Cantonese marinade to give the McRib-like pork patty a flavorful twist.
Eng's trajectory through restaurants with other varieties of Chinese cuisine led him to Bonnie's, where the "flavors and ideas will always be Cantonese, and the philosophy behind it all," he said.3 Given the popularity of his debut restaurant and his growing list of accolades, Eng is expected to expand on his recipe of success this year.
Ana Castro, who also made the list of Food & Wine's "Best New Chefs" last year, is wowing taste buds and taking her profile as a culinary trailblazer to the next level as executive chef at Lengua Madre ("mother's tongue" in Spanish), the wildly popular Mexican restaurant based in New Orleans.
After jobs as a line chef and sous chef, Castro resolved to open a Mexican restaurant inspired by the cooking of her grandmother and other family members yet bearing her own stamp. Lengua Madre puts this ancestral knowledge from her birthplace to good use. As she put it: "Memories are fragile, like a bubble, and they can burst…I try to have my grandmother represented in everything I do, but not exactly. She's always with me."5
Hungry for more from celebrated chefs? At Mondelēz Foodservice, we've assembled a lineup of acclaimed chefs as Brand Ambassadors, who use our trusted brand ingredients to create innovative dishes, desserts and drinks in a market with an insatiable appetite for menu innovation. Visit our Brand Ambassadors page to get inspiration from these creative culinary professionals. For custom recipe solutions to meet your operation's challenges, reach out below.
1 Datassential, Foodbytes: 2023 Food Trends
2 Brown, Cole, "Chef Roze Traore Fills His Food with Ivorian Sensibility," W Magazine, November 7, 2022
3 Shah, Khushbu, "Food & Wine Best New Chefs 2022: Calvin Eng," Food & Wine, September 12, 2022
4 Boesch, Samantha, "5 Up-and-Coming Celebrity Chefs You're About to See Everywhere," Eat This, Not That, December 9, 2022
5 D'Addono, Beth, "Ana Castro brings Mexican flavors to tasting menu at Lengua Madre," April 16, 2022