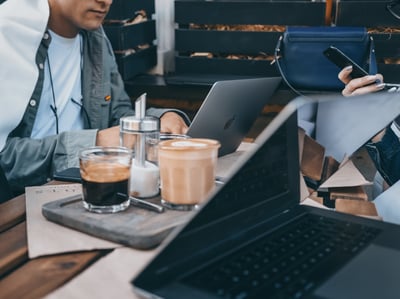 The economy may be lean on traditional full-time jobs, but it could help bulk up the bottom line for foodservice operations. While the population occupying conventional offices may be shrinking, there's plenty of room for growth at coffee shops and restaurants who can cater to the growing cadre of workers hungry for communal office space.
With 15 million Americans self-employed1 and 43% of the U.S. workforce projected to be part of the gig economy by 2020,2 communal office space and snacks could be especially appealing combo.
Over the years, as the shift from traditional work to the gig economy took shape, coffee shops developed a reputation as de facto workplaces for self-employed professionals. Workers lounging with their laptops became a familiar sight at the local Starbucks—so much so, Microsoft Outlook released a special feature to schedule meetings there.1
When Starbucks introduced free, unlimited Wi-Fi at its stores, the self-employed began to pour in and a new source of revenue began to brew. "Having an Internet connection should be as frictionless as possible," said Adam Brotman, the Starbucks executive who led the push for free Wi-Fi as a cornerstone of Starbucks' mission to adapt to the needs of a changing workforce.1
Known for its signature premium products and distinctive flavor profiles, the Starbucks brand also established a reputation as a worker-friendly environment for the self-employed.

Now free Wi-Fi has become a foodservice staple, with 80% of millennials surveyed having used it in a restaurant in the last year.3 It was the perfect way to connect with digitally demanding younger consumers and freelancers who could perk up business during off-peak hours. "We provide a comfortable venue where you can be alone or with other people and think and do work," Brotman explained.1 "That's always been the case, but it's more important than ever now that work is so modular and bite-sized."1
Restaurant Operations Open to Workspace Innovation
As Inc. magazine reported, research studies have shown increases in efficiency, engagement and job satisfaction among people who work from home.4 These results have helped spur the trend of companies allowing employees the flexibility to work offsite—often as an incentive to attract and retain millennial staff.4
With so many Americans joining the ranks of the office-less workforce, often with the blessing of their employer, it's no wonder that restaurants are now offering communal office space. In New York City, where commercial rents tend to be sky-high and margins vice-tight, it makes sense for foodservice establishments to loan out their space during hours when they're not open.
In the two years since it launched, the co-working space rental company Spacious has transformed 25 upscale restaurants in New York and San Francisco into weekday work havens for the office-deprived.5 Now Spacious is feeding on $9 million in venture capital to expand up to 100 spaces this year.5
Converting high-end restaurant space to workspace may help solve the problem of costly waste during off hours. As Preston Pesek, Spacious's cofounder, pointed out: "Not only is it an aesthetically beautiful environment that's going to inefficient use, but the energy that it takes to keep it open, and the amount of resources that it took designing the interior and building it out. If it's only open between 6 p.m. and midnight, that represents a huge waste."6
As a result, the door is open for foodservice operations to serve a new and growing consumer base with flexible work hours. Given how young consumers have come of age in the gig economy, it may make sense to leverage millennial demand for satisfying flavor experiences, while keeping in mind the importance of brand trust.
Contact us now to find out how our popular brands can help you attract more self-employed and remotely employed customers during peak and off-peak hours.
3 Technomic, Consumer Evolution, Feb. 2018, p. 2