"Consumers today, especially millennials, are eager to spread the word about new dessert experiences."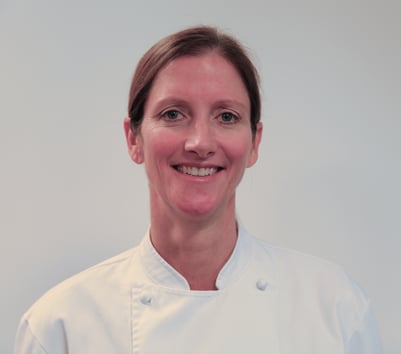 Bio: With over 31 years of experience in producing high-quality pastries, confections, ice creams, wedding cakes and baked goods, Chef Mitchell has established an excellent reputation as a trusted culinary expert for fine hotels, restaurants and the manufacturing industry. She earned her culinary degree at the Culinary Institute of America at Hyde Park, where she went on to become a faculty member. She was also on the faculty at the University of Hawaii and has been featured in Chef Educator Today magazine. Chef Patty possesses a wide variety of culinary certifications and memberships.
LCS: Could you share your background and explain your role at Mondelēz International?
PM: For over nine years, I worked in bakery product development at Crestone Baking Company, Galaxy Desserts; also at the Culinary Institute of America, where I developed the wedding cake chapter of their first-ever baking and pastry publication. I've written for American Cake Decorating, where my column, "Baking Advisor," appeared bimonthly. Now I'm a senior executive chef for Mondelēz International, where I help customers maximize the potential of the ingredients they purchase from us. I'm also responsible for developing recipes for foodservice operators and enhancing our online recipe database.
LCS: When it comes to snacks and desserts, millennials insist on bold, adventurous flavor profiles. Any interesting examples come to mind?
PM: Twists on classics are trending now. Perennial favorites like cupcakes are getting makeovers with premium ingredients, better-for-you versions and diverse flavor combinations. Desserts with herb and fruit combinations and alcohol-infused desserts are also becoming popular.
LCS: How have restaurants and other foodservice operations been meeting the demand for shareable snacks and the latest dessert trends that offer exciting new flavor experiences?
PM:Many foodservice and restaurant operators are looking to international cuisine for inspiration. Offering snacks and desserts with exotic ingredients and flavor profiles from other countries has the appeal of adventure and novelty. And if customers share these offerings on social media as well as in person, all the better. Desserts that look especially scrumptious or unusual tend to be photographed and shared on social media.
LCS: There's been a lot of talk lately about mashups and hybrids. Any that you find especially noteworthy?
I like the extreme shakes. They are fun, have a lot of different flavors and textures and are very interesting to look at. They are over the top and that seems to be very popular right now.
LCS: What flavor combos or mashups do you think are worth experimenting with?
Any flavors that you find interesting or that you like. When someone asks, "Is it good?", with few exceptions, the answer should be, "if you like it, it's good." The same goes for creating new items with different flavor profiles. Look in your pantry and experiment with some flavor combos you hadn't thought of before.
LCS: Millennials are interested in snacks and desserts with internationally inspired flavor profiles. How is Mondelēz International accommodating their appetite for global tastes?
We're always developing unique flavor profiles, often in the form of new spins on timeless favorites. Consumers still gravitate to the tried-and-true. Often when someone buys a burger, for example, they prefer to have something that they know and trust to complement it, such as an OREO shake. It's delicious and comforting, and if we can put an interesting twist on it, all the better.
We will look to add some internationally inspired flavors to some recipes on our website in the near future.
LCS: What unusual blends of flavors and ingredients do you think will drive menu innovation in the near future?
I think we will continue to see Asian inspired, particularly Korean spice and Japanese fruits as well. We'll also continue to see farm-to-table-inspired, local items such as honey, but not your ordinary honey. For example: grapefruit, avocado, etc., honey as well as unique hybrids of some fruits and vegetables.
For further insights into shareable snacks with rich, diverse culinary influences, read International Flavors Go Far with U.S. Snackers.
Do you agree with Chef Patty's thoughts on desserts? Want to learn more about shareable dessert and snack trends and get expert tips on menuing popular flavor experiences? Share your thoughts below.