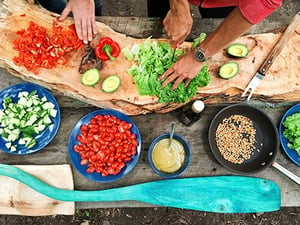 The Mediterranean diet has served up a feeding frenzy of fanfare about the flavors and nutritional content of southern European and northern African cuisine. With its emphasis on olive oil, legumes, whole grains and vegetables, what once may have seemed a fad has become a cultural and culinary guidepost for flavorful, better-for-you fare.
Dubbed "the gold standard of diets" for its nutritional value and delicious flavor profiles, the Mediterranean diet has been identified by the Food and Agriculture Organization of the United Nations as a sustainable food consumption model to follow.1 In addition, U.S. Nutrition Guidelines recommend it as a wellness-oriented eating regimen.1
Given the Gen Z and millennial appetite for ethnic flavors excursions with wellness appeal, Mediterranean-inspired snacks and dishes seem well poised for market growth. Fifty-one percent of older Gen Zers and 55% of young millennials surveyed are interested in experimenting with foods as they get older, and Mediterranean food has increased 11.3% on restaurant menus over the last five years.2
What's more, Mediterranean foods are also likely to appeal to older consumers.The popularity of spicy, bold and ethnic flavors may vary along a generational divide. But while millennials surveyed are two times more apt than baby boomers to eat ethnic foods at least once a week,3 a good deal of Mediterranean fare (think Italian and Greek cuisine) offers a higher degree of familiarity than other cuisines and milder profiles that extend its mass appeal.
Mediterranean Menu Innovation Meets Multi-Generational Demand
As Kelly Weikel, director of consumer insights at the foodservice market research firm Technomic, explained: "The growing divide in flavor preferences between millennials and boomers heightens the need for a product mix that appropriately balances familiarity and innovation."3 Mediterranean flavors can help expand your culinary range to encompass consumers across generations.
While Mediterranean food is renowned for its wellness halo, fast-casual restaurant operations are increasingly emphasizing the cuisine's distinctive flavors too. Mediterranean food is now more broadly defined, allowing fast-casual eateries to develop their own interpretations of it. "It can mean a lot of things and give you a lot of leeway in describing your menu, as opposed to just one country," said Jennifer Aranas, senior project director at the market research and advisory firm Datassential.4
Twenty-four percent of fast-casual and 13% of quick-service menus now feature the word "Mediterranean."4 Greek offerings have grown 13% over the decade and appear on 32% of fast-casual and 25% of quick-service menus, primarily on the strength of Greek salads.4 Since 2013, tzatziki sauce has surged 41% on quick-service restaurant menus.4
Hummus Helps Spread Millennial Snack Sales
Hummus is a Mediterranean staple that has become an one of the most popular dips in America.5 Forty-four percent of consumers across age groups and 57% of millennials surveyed purchased hummus in the six months leading up to November 2016.5 Hummus has become so popular, it is now selected and shared as a snack at a rate on par with salsa and guacamole.5
Mediterranean flavors are among the world recipes featured in the Véa assortment of savory snacks, including Greek Hummus with Olive Oil and Tuscan Herbs with Roasted Garlic. Introduced to the U.S. market in 2017, all are non-GMO project verified and contain no artificial colors or ingredients.
Learn more about how you can leverage Mediterranean flavor trends and other internationally inspired recipes to help you savor more sales. Reach out or sound off below.
1 Paravantes, Elena, "Mediterranean Diet, The Diet of the 21st Century?" Huffington Post, Mar. 3, 2017.
2 Bush's Best, "The next hot ethnic cuisine: Mediterranean," Food Service Director, Jan. 13, 2017.
3 Technomic, "Preferences for new flavors increasingly vary by generation," Oct. 26, 2017.
4 Wolf, Barney, "Mediterranean Cuisine: More Than Just a Diet," QRS, Sept. 2017.
5 Bergen, Edward, "In Flavour: Sweet Humus," Mintel Blog, Dec. 13, 2017.