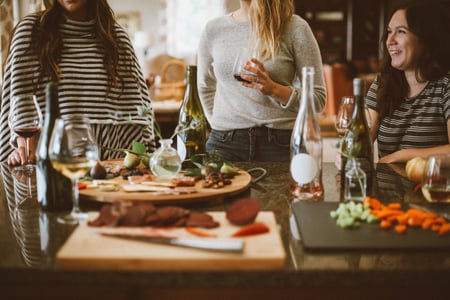 Fasten your aprons, foodservice operators. A strong sense of culinary wanderlust seems to make millennial dining steer clear of the same-old, same-old and veer toward extraordinary experiences.
According to the market research and advisory firm Datassential, 44% of millennials surveyed classify themselves as foodies and 14% of them spent more on average the last time they ate out than the general population.1 So the stakes seem high for restaurant operations to excel at making every dining experience memorable.
Size matters when it comes to foodservice consumer demographics. A foodie-oriented generation that makes up a quarter of the total U.S. population2 will naturally make operators step up to the plate, and with 48% of millennials surveyed willing to try a new dish just because it sounds interesting,3 the opportunities for menu innovation seem wide open.
And yet contrary to their appetite for adventure, millennials are often loyal to the faves: Half of them surveyed are committed to dining at an establishment they've already enjoyed.1 And with a quarter of them relying on social media and review sites like Yelp for restaurant referrals,1 wowing them is a must. Survey results show that casual and midscale restaurants and QSRs ranked highest for recent in-person millennial visits.1
A Foodservice Picture is Worth a Feast of Likes
The visual aspect of the dining experience is key for the snap-happy, social media-minded millennial cohort. When eating away from home, millennials most prefer menus with photos (53%) and taking photos of food (24%).4 .
Datassential noted that the experiential aspect of dining varies widely, from innovative limited-time offers like Shake Shack's Eel Burger (75% of millennials thought it was unique) and Starbucks' Zombie Frappuccino (73% considered it unique) to games that come with an order.5
Dunkin's Sip-Peel-Win promotion helps drive off-peak traffic with peel-off coupons (available exclusively on large beverages) that consumers can redeem for special offers after 11 a.m. Now Dunkin' is scaring up excitement with its latest pic-worthy product innovation—the Oreo Donut—just in time for Halloween.6
That's Eat-ertainment: Blending Product and Performance
Not only is experiential dining in demand; people are also willing to dig deeper into their pockets for it. According to Eventbrite, a global technology provider for events in varied industries, 75% of consumers surveyed across generational lines consider unique dining experiences worth higher prices.7
Eventbrite survey data underscores the appeal of the pop-up dining experience, with an 82% increase in one-off events that showcase novelty and interactivity.6 Turning dining into an event may be the key to unlock a higher check average. Half of survey participants would be willing to pay more for the exact same menu item if it offered a chef interaction at the table.7
Given their passion for adventure, it's no wonder that three in four millennial consumers surveyed expressed a preference for paying for an experience rather a product.7 Blending product and performance may be a recipe for success with millennial customers.
Visit our Culinary Center for recipes that can help ramp up your repertoire of flavor experiences. Contact us to find out how our expertise can make dining more engaging and experiential for your customers.
1 Datassential, FoodBytes: Millennials (Feb. 2018), p. 3