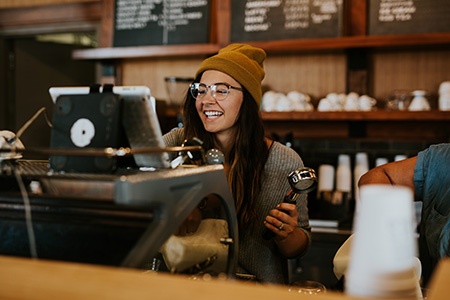 Good things come in small foodservice establishments, consumers seem to be saying. Despite a 4% falloff in total independent restaurant unit counts in 2017 compared to the previous year,1 it looks like consumer demand for micro restaurants is having a sizable impact. According to the global industry analysis and advisory firm NPD Group, micro-chains are breaking the lock larger chains once had on growth.
Locally based and known for the nimbleness with which they leverage emerging foodservice trends, micro-chains have gained popularity and prestige as purveyors of new culinary experiences and eclectic experimentation. Defined by NPD Group as one- to two-unit restaurants that expand into three to 19 locations, micro-chains are on the rise in major U.S. cities1—hubs for millennial foodies hungry for flavor feats and trendworthy taste adventures.
According to the firm's biannual restaurant census, micro-chain unit counts are up in several key markets. Dallas-Fort Worth experienced the greatest growth in 2017 with a 5% rise in micro-chain units, followed by a 4% increase Orlando.2 Units grew by 3% in Atlanta and Washington, D.C., and 2% in San Francisco, Houston and Los Angeles.2
"From market to market," said Annie Roberts, vice president of NPD's SupplyTrack®, "we're seeing micro-chains grow in unit count and size—not staying at 1–2 units, but expanding and ordering more."3
Strong Links: Why Micro-Chains Are Having a Moment
Micro-chains surpassed larger and even major chains when it came to orders placed and spend with U.S. broadline foodservice distributors. SupplyTrack, which monitors monthly sales of each product shipped from leading broadline distributors to their foodservice operators, reported a 5% increase in total spend by micro-chains in the first quarter of 2017 compared to the previous year.1 Meanwhile, total dollar spend for all restaurant and retail foodservice operators with major broadline foodservice distributors was 2%, with a 1% rise in cases ordered.1
Roberts attributes the growth in micro-chains to a variety of factors, including specialized cuisine, quality ingredients, local sourcing, a vibrant dining atmosphere, elevated customer experience and authenticity. "Many of these chains are pushing the right buttons for today's restaurant customers with a new attitude and fresh perspective," she says.3
The flexibility of micro-chains is another advantage. Unlike larger chains, they can move quickly to modify menus, capitalize on trends, strengthen supply chains, streamline processes and integrate consumer feedback. As Donna Lee, founder of the Chicago-based micro-chain Brown Bag Seafood, put it: "I can sit down with my GMs, play with recipes, and roll out a new seasonal menu item days later. That nimbleness then trickles to areas throughout the business, where staff and customers are both motivated when they see us responding to things they care about."3
A Taste of Success, a Balancing Act
With 50% of millennials surveyed by the foodservice research firm Technomic expecting restaurants to offer signature flavors and 40% expecting them to frequently introduce new flavors,4 micro-chains' reputation for innovative and trending cuisine is appealing.
But whether you operate a micro-restaurant, a mid-size operation or a big-chain franchise, balancing uniqueness and familiarity may still be the smartest recipe for success. As Technomic reports, "Consumers tend to be more willing to try new flavors in foods with which they're already familiar. To balance demands, operators can leverage products (e.g., ingredients, sauces, etc.) from known brands to increase consumers' willingness to try dishes featuring unusual flavors."5
Micro-restaurants may be small wonders, but when it comes to brand recognition, size matters. To learn how our brands can help grow your business whatever the size of your operation, reach out to us below.
4 Technomic, 2017 Flavor Consumer Trend Report Infographic. Downloadable here
5 Technomic, Flavor Consumer Trend Report, at page 15 (2017)