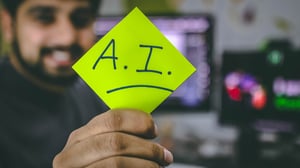 High tech is increasingly high profile as the pace of innovation continues to accelerate across industries—and foodservice is no exception. Consumers eat up the speed and convenience it offers; operators hunger for the higher margins it could provide.
The huge potential of artificial intelligence to expedite and enhance the customer experience puts it at the forefront of tech innovation in the foodservice industry. AI serves up a feast of foodservice possibilities, whether in the form of robotics that replace human interaction (and thereby reduce labor costs) or digital platforms that serve up data for highly personalized and targeted customer experiences which help foster brand loyalty and a higher check average.
AI stands out among tech innovations for its machine-learning capabilities, which enable foodservice operations to collect and apply data for customized tasks, such as tailoring offers to specific customers based on order history and purchase patterns.
As a result, it's a smart bet that artificial intelligence will experience exponential growth. The research and advisory firm Gartner predicts that AI could reach $3.9 trillion globally by 2022 based on "the technology's customer experience capabilities, revenue from current and future products and services, and cost reductions."1
AI-Enabled Solutions for a Higher Check Average
No wonder, then, that MacDonald's is supersizing its tech investments. Already known for integrating advances like in-store order kiosks, the chain has been swift to expand its menu of AI innovations. Hot on the heels of its $300 million acquisition of personalization provider Dynamic Yield, whose technology it plans to adapt for data-driven drive-thru menus, the quick service giant is making a $3.7 million investment in Plexure, a mobile engagement software company.2
Known for its AI-powered efficiency, Plexure's technology enables a version of McDonald's Global Mobile App in Italy, Japan and 46 other countries outside the U.S.2 McDonald's investment gives it a 9.9% minority stake in Plexure2 in a clear indication that the chain intends to boost its mobile app development capabilities.
Kevin Orzan, McDonald's Chief Financial Officer, weighed in on the company's technology investments recently during the JP Morgan Gaming, Lodging, Restaurant & Leisure Forum.3 "I think technology, which used to be considered to support the business, is now to grow the business," he said. "We can start to link this entire technology infrastructure together."3
Other foodservice juggernauts have wised up to AI's revolutionary potential and started to harness its power. Domino's Pizza has turned to virtual assistant technology to deliver a cost-effective solution to taking orders. The pizza giant has developed Facebook chatbots that receive orders from customers for any menu item. Designed to gather relevant information, the chatbots activate as soon the customer types in the word "pizza" to kick off the order process.
Starbucks has developed a voice recognition mobile app that takes verbal orders. Just like a live barista, the app allows customers to request customized orders and processes payments. And the AI-driven robot waiter Pepper from Softbank Robotics, a leader in robotic solutions, is deployed in Japan's Hamazushi chain of conveyor belt sushi restaurants. In response to human speech, the robot takes orders, recommends menu items and processes Mastercard payments.
At Mondelēz International, we offer the brand selections and culinary creativity today's foodservice operations should try to get the most out of AI. Contact us now to learn how we can apply our knowledge of smart solutions to help bolster AI's effectiveness and ensure a solid ROI.
1 Total Food Service, What AI Has In Store for the Foodservice Industry, Nov. 19, 2018
2 Retail TouchPoints, McDonald's Invests $3.7 Million In Mobile Engagement Software Provider, Apr. 4, 2019
3 Littman, Julie, Why McDonald's is supersizing its tech spending, Restaurant Drive, Apr. 5, 2019