Consumers are hooked on seafood, giving foodservice operators an ocean of opportunity to leverage the market's growing appetite for fish dishes.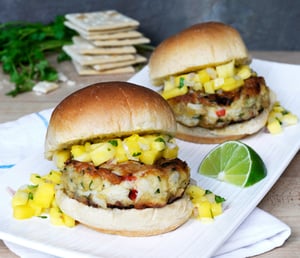 According to the foodservice market research firm Technomic, consumers are eager to take the bait and help restaurants feed the bottom line with greater seafood variety. While seafood dishes are longstanding staples on full-service menus, they've been steadily making their way downstream to limited service restaurants—especially fast casuals—in takeout and grab-and-go formats.
Technomic survey results show that nearly a quarter of consumers demand more seafood options on fast casual menus,1 and 22% would like more fish offerings at fast food restaurants.2 To satisfy demand, more seafood concepts are expected to surface, particularly poke-based dishes as the Hawaiian specialty flows further into the mainstream.
As Indian, Middle Eastern, regional African and Philippine cuisines continue to make inroads into the LSR segment, we can also expect to see a steady stream of more global and ethnic influences in seafood concepts.
The trending tide of demand for wellness-oriented options is a determining factor in fish's popularity. Fifty-eight percent of consumers perceive seafood as a better-for-you alternative to beef or pork; 43% consider it preferable from a wellness standpoint to chicken or turkey.3 Seafood's well-being profile, combined with its adaptability as a platform for flavors, sauces and ethnic culinary inspirations, makes it easy for chefs to do a deep dive into menu innovation.
A Deeper Dive into Menu Innovation: Seafood as Sustainable Protein
Seafood is also coveted as a source of protein. Survey data from the NPD Group, a market research and advisory firm, determined that protein was the #1 dietary interest last year.4 But given an increasingly wellness-driven market and the growing emphasis on sustainable sourcing (especially by millennials who hunger for reassurances about their meat options), seafood may have a special appeal as a versatile and responsible form of protein.
As a result, seafood that measures up to the highest ethical and sustainable standards marks a watershed in the category, and the trend is catching on with chains. Red Lobster, Slapfish and Long John Silver's have implemented programs to bring sustainably harvested seafood center of plate.
The market research firm Datasssential reports that 20% of new menu items from 2010–2017 were seafood-related.5 Limited-time offers and new menu items like the Lobster Lover's Dream from Red Lobster and Outback Steakhouse's Towering Grilled Shrimp on the Barbie Filet have helped increase seafood consumption in recent years.5 Breakout LTOs can be revisited for other occasions or added to the permanent menu. While 32% of consumers surveyed want to reduce their red meat intake, a third wants to add more seafood to their diet,5 giving operators leeway to experiment with more seafood concepts.
At Mondelēz International, we offer trusted brand ingredients and culinary expertise to help elevate your menu with a wide variety of exceptional seafood options. Check out our Latin-Style Crab Cake Sandwich with PREMIUM Saltines—just one of many dishes that can help you reel in more sales year-round. And if you're fishing for more information and insight, just drop us a line below.
1 Technomic, Future of LSR Consumer Trend Report, 2018, p. 105
2 Technomic, p. 104
3 Technomic, p. 22
5 Datassential, Foodbytes: Ice, Ice (Seafood) Baby, Oct. 2017, p. 3