Posted in Marketing & Communications on April 14, 2016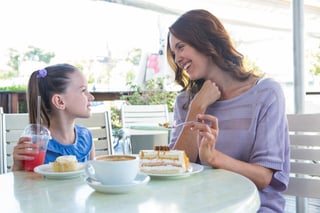 With Mother's Day just around the corner it's time to shine a light on the loveliest ladies in our lives. That means eating special treats, gathering family at a special meal, or even just spending relaxing time together—in other words, lots of opportunities for operators to make a splash and maybe a little extra cash while they're at it.
Merchandise for Mom's Day
Help customers appeal to their moms' sweeter sides with some of her favorite sweet (or salty) snacks! Strategically place Mother's Day–themed POS materials and displays filled with treats geared toward Mom around your operation to drive impulse purchases.


Create a Special Mom's Day Menu
38% of U.S. consumers dine out on Mother's Day,1 so be sure to make it special. Create a special menu offer or dessert item to let consumers know your operation is THE place to take Mom.


Brunch Is Big


Even if your operation isn't a typical brunch destination, this is a great opportunity to expand your menu—if even for only a day—to bring in new traffic and give it special-occasion street cred. I mean, really, who could resist these easy-yet-amazing

Chocolate Cookies 'N' Creme Pancakes?


Keep It Casual


Not everyone wants a fine-dining celebration. In fact, only about 8% of consumers do, compared to the 62% who plan to eat at casual-dining operations.

1 So more relaxed operations need to plan for and get the word out about Mother's Day celebrations and specials. Post social updates or put your Mother's Day POS materials out in advance, whatever it takes to let people know your operation is the place to go.


Make it Extra Special


While fine dining is in the minority, full-service is still a go-to for many Mother's Day diners. Even with economic changes reducing restaurant spending dollars and a cultural shift toward limited-service operations, families are still taking the time to celebrate a special occasion with a sit down meal.

2 So make sure you go above and beyond. Offer a free dessert just for mom or present take home treats with the check for the whole fam. A little goodwill can go a long way to turning a customer into a loyalist.


What do you do to appeal to Mother's Day dinners? Share your secrets below.
1 Jennings, Lisa, Nation's Restaurant News, "Restaurant Marketing Watch: Casual-dining to shine on Mother's Day," May 8, 2015, http://nrn.com/marketing/restaurant-marketing-watch-casual-dining-shine-mothers-day
2 Negrete, Rita, The Durability of Mother's Day Dining Sheds Light on What Consumers Seek in Casual Dining," Technomic blog,, May 7, 2014, https://blogs.technomic.com/the-durability-of-mothers-day-dining-sheds-light-on-what-consumers-seek-in-casual-dining/