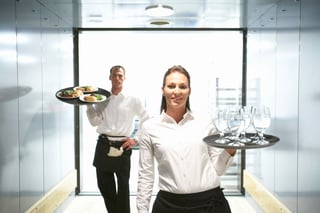 Summer's here! And for your business, that doesn't just mean longer days, but longer lines too. As you scramble to meet the increased traffic through additional hires, you're certainly not alone. According to job search engine Snagajob, 80% of operators plan on having their hourly summer positions filled by the end of May.1 And 40% of employers plan to hire more workers than they did last year.1
But as the labor market tightens up, so does the competition. Keeping your edge means being creative about how you attract quality staff—through flexible schedules, strong training and novel perks.
Another way to get a leg up? Use mobile-based job applications. Today, 1 in 2 prospective hires completes their application on a mobile device.1 You'll want to update your hiring process to make sure you're reaching prospective new talent where they live.
Here's some good news to help with your recruiting: Returning workers, including college students, are increasing in numbers. Keeping an active database of these workers can simplify your summer hiring process.
When you consider that just one hourly employee costs about $2,000 to replace,1 there's a strong incentive to hold onto the staff you currently have and minimize turnover. Try utilizing some of these tips—and share your experiences with us below.
1 Duncan, Nicole, "The Competition for Summer Staff Heats Up," QSR, May 20, 2016, http://www.qsrmagazine.com/news/competition-summer-staff-heats