Posted in Technology on September 6, 2022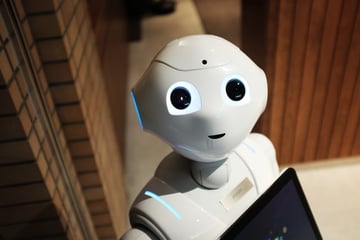 As two major foodservice trends, robotics and plant-based meat alternatives are playing a pivotal role in paving the way to the future of the industry. International food and restaurant consultants Baum+Whiteman have identified robotics as the trend of the year and include plant-based chicken as another top trend expected to reach new heights in 2022.1
"Accelerated adoption of robots and other forms of automation in the restaurant industry will be the #1 trend for 2022 ... and for years beyond," Baum+Whiteman reported.1 The consultants cite labor shortage, escalating costs and other pandemic-related social shifts as key factors in the rapid rise of robotic integrations, such as Flippy, the robotic arm that flips burgers at White Castle and cooks chicken wings in a test run at Buffalo Wild Wings.1
As explored in a previous post, "Va-Va-Vending: Technology Trends Transform Vending Machines into 24/7 Restaurants," some companies are turning vending machines into round-the-clock labor-free restaurant operations that rely on complete automation to avoid the economic pressures of the traditional restaurant format.
Meanwhile, plant-based protein substitutes continue to gain popularity as a more sustainable and economical alternative to meats, with moral, nutritional and environmental advantages that loom large for a market increasingly sensitive to the social and individual wellness implications of the food they consume, as survey results from the market research firm Datassential show. Half of consumers surveyed consider plant-based foods better for the environment.2
Challenges posed by the pandemic have accelerated their integration. "After knocking themselves out in the chicken sandwich wars last year, fast food chains will move the battle to another level: Plant-based chicken nuggets and tenders," Baum+Whiteman predicted. "With prices of animal protein so volatile ... and shortages of real chicken boosting prices well into 2022 ... the timing is right."1 They cite Burger King, KFC and Panda Express as part of the growing pecking order of chains that have introduced plant-based chicken alternatives.1
Tech Meets Taste: Robotics and Plants Power Profits
In an example of the robotics and plant-based trends coming together, plant-based food manufacturer SavorEat uses a 3D printing robot to extrude and cook its burgers at the same time. The system, piloted by Burgus Burger Bar in Israel, uses an app that customizes orders, and Sodexo, a food and beverage provider for universities across America, has announced plans to test it this year as well.1
Now the fast-casual chain Chipotle Mexican Grill, which tested a tortilla chip-making robot dubbed "Chippy" earlier this year, is investing in two startups poised to break new ground in the plant-based and robotics revolution.
As reported in Restaurant Business, Cultivate Next, Chipotle's $50 million venture arm, will provide funding in undisclosed amounts for Hyphen, "an automated makeline that uses robots to assemble order," and Meati Foods, which "sells faux meat made with mushroom root, a fungi also known as mycelium."3
Plant-based items have been sprouting up on the Chipotle menu for years now, from the tofu-based Sofritas since 2014 to its current test of Mexican Cauliflower Rice in 60 locations.3
The chain's emphasis on growing the number of plant-based options on its menu makes sense, given Datassential research showing that limiting meat intake in favor of a flexitarian diet is becoming increasingly popular, especially among Gen Z. Over a third of Gen Z consumers surveyed are meat limiters, and their generation "has a higher proportion of vegans, vegetarians and pescatarians."2
At Mondelēz Foodservice, we pride ourselves on standing at the forefront of culinary innovation for a new era. Count on us for concepts that help optimize your menu for our rapidly changing business landscape. Our Culinary Center is available 24/7 as an on-the-house buffet filled with samples of the celebrated expertise we bring to the table. Have any specific menu challenges you'd like to overcome? Our acclaimed chefs are here to help. Share your thoughts and challenges below.


1 Baum+Whiteman, 2022 Food and Beverage Forecast
2 Datassential, 2022 Plant-Forward Opportunity
3 Guszkowski, Joe, "Chipotle Invests in Robotic Makelines, Fungi-Based Meat," Restaurant Business, July 21, 2022