Posted in Family Restaurant on June 9, 2023
Instagram provides a platform for customers to interact around the brands they love.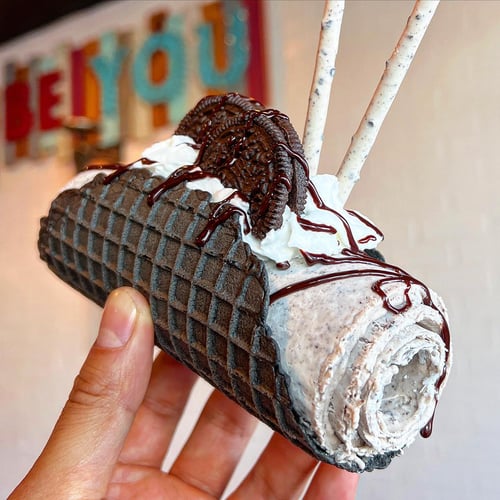 Photo: Sweet Roll Tacos
These days a picture may be worth much more than a thousand words with the right restaurant Instagram marketing strategies. The right image posted in the right way on social media can drive sales, attract new customers, and elevate a brand's position in the marketplace.

Instagram remains one of the best platforms for sharing images because of its ubiquity, with 140 million users in the U.S. alone and about 1.35 billion globally.

"Instagram remains the leading platform for brands to share engaging visual content among the widest cross-section of consumers" says Hays Formella, Senior Social Media Strategist at The Food Group, a boutique marketing communications firm specializing in food and beverage brands. "Foodies flock to Instagram seeking inspiration and stick with brands that can deliver consistently high-quality, beautiful food imagery."
Creative and visually appealing snacks and Instagrammable desserts can prompt an immediate desire to visit a restaurant to experience them, she says, noting that Instagram's own research shows that 70% of shoppers look to the platform to discover new products and inspire their next purchase.

"Whether it's a beautifully styled milkshake or a never-before-seen cookie sandwich combination, Instagram users love to see imaginative takes and then share their own experiences with these items," says Megumi Robinson, VP of services, Belle Communication, a media strategy and public relations firm.

In the foodservice environment, using social media to illustrate the human elements of the operation, such as culinary expertise and creativity, can be an effective restaurant Instagram marketing approach.

"Culinary teams are usually tucked away in a kitchen, but social media can bring you and your personality forward," Robinson says.
Leveraging user-generated content
Successful social media campaigns often incorporate feedback and other content created by fans of the brand, says Robinson.

Robinson describes a campaign from breakfast and brunch concept First Watch that employed social media to launch its seasonal spring menu, which was inspired by tropical flavors. The restaurant chain featured its Tropical Sunrise fresh-squeezed juice beverage in its Instagram feed, and incorporated posts from influencers in Florida. The campaign included a Florida vacation sweepstakes for one winner.

"Multiple image posts, Reels and influencer elements during the limited time offering showcased Tropical Sunrise in versatile ways, giving this single menu item many chances to drive restaurant traffic and trial," says Robinson.
In a blog post on its website, Belle Communication also highlighted several other restaurant chains that have leveraged Instagram effectively, including California Donuts, a family-owned shop that fills its Instagram feed with bright, colorful images of its unique donut creations, often tied to holidays and other events. Recent posts included its Mazapan, Horchata, and Abuelita Chocolate donuts for Cinco de Mayo, for example. Although California Donuts only has a single location, it has more than 350,000 Instagram followers and its posts regularly receive thousands of likes.

Having an eye-catching Instagram feed can also garner support from industry partners. For example, the Sweet Rolled Tacos dessert chain recently picked up some great exposure when OREO® reposted an image of one of its creations, which includes rolled ice cream in a taco shell-shaped cone with a couple of OREO cookies. That image picked up more than 28,000 "likes" in just two weeks.
Partnering with other brands
The Cheesecake Factory, with more than 1 million followers on Instagram, also fills its feed with beautiful photography of its menu items. One recent Instagram Reel video, for example, focused on its OREO® Dream Extreme Cheesecake, describing it as "a perfect way to end your meal." The post gathered more than 5,000 likes and was shared more than 700 times as of early May.

Partnering with brands is also a great restaurant Instagram marketing strategy for independent operators and smaller franchises as well. The Dolly Llama, an LA-based waffles and ice cream franchise with over 50 locations, regularly promotes The Snow Storm on their Instagram profile, which is made with vanilla ice cream, [OREO Cookie Pieces], chocolate sauce, OREO cookies, coco sprinkles and whipped cream. Their instagrammable llama-themed shop also does specialty favorites like the waffle ice cream sandwich and a whole variety of build-your-own and signature shakes.
Robinson notes that videos outperform other types of content, with a 14% reach rate, vs. 9% for other types of content, according to Instagram. This is likely due to the effect that TikTok's short-form video content has had on Instagram. Instagram has had to adapt by rolling out Reels, which enables the rise of short-form video content for food business Instagram marketing to be promoted on the platform.
When partnering with ingredient brands on social media, such as The Cheesecake Factory does with OREO, Robinson suggests that operators work closely with their brand partners to identify opportunities. She suggests asking questions such as which content performs the best on the brand's channels, or what type of content hasn't been tried that an operator could be the first to create.

Operators looking to create effective restaurant Instagram marketing material can also ask their brand partners for tips on how to best capture images of their foods, such as which equipment to use or what smartphone settings work best with their products.
Tips for optimizing Instagram
Following are some additional food business Instagram marketing suggestions Robinson has for operators seeking to leverage Instagram to promote their snack and dessert offerings.
Tap into trends and pop culture to enter the "social media cocktail party" with a timely contribution. "For example, if Instagram is abuzz with fans sharing their enviable post-concert meals with friends, can you create the perfect shareable snack or dessert in the theme of the music artist to cap off their experience?" says Robinson, noting that it's also important to add the right location tags and hashtags to seed your content with the right audience.

Create an "ownable" theme that captivates followers. Consider who your target audience is, and what inspires them, says Robinson. "For example, Gen Z is known to look at a potential partner's zodiac sign as a measure of compatibility," she says. "They would appreciate astrology-themed snack pairings that work well together." Other ideas could include a milkshake of the week or a cookie charcuterie board, Robinson suggests, adding that operators should consider exploring an idea that "uniquely highlights your brand and your creative expertise."

Share a peek at the process. Some of the most viral Instagram Reels and TikTok videos feature personalities who add a unique perspective when sharing their recipe demonstrations, Robinson says. "Whether it's funny commentary or cooking combined with dance moves, people like to see how the magic is made—and it's even better with an unexpected element," she says. Creators who share new food items also stand out by adding fun and memorable taglines at the end of each post, Robinson says, citing phrases such as "so good" or "that's where it's at." "What's your ownable line?" she asks.

Engage fans and followers in the process. Social media has become a two-way conversation, Robinson says, citing examples such as meteorologists weaving their fans' song lyrics into their broadcasts, and restaurants embracing social media users' demands for their menus. "If fans interact with your posts, determine if there's an opportunity to use them as a source for suggestions and content," she says. "It could drive traffic and social sharing because they will get to see how you brought their ideas to life."
For more Instagrammable dessert ideas that can light up your feed and drive traffic and sales, visit the Mondelēz Foodservice Culinary Center, and check out this Mondelēz Let's Chat Snacks post to learn more about foodservice promotions on TikTok.
Looking Good!
Operators Post Shareable Dessert Images on IG
Restaurant operators often get good traction from posting snack and dessert images on Instagram and following Instagram food trends. Many encourage fans to share their posts, provide feedback, and suggest hashtags to promote desserts on Instagram, products, or events tied to the dessert offerings.