Posted in Family Restaurant on April 6, 2023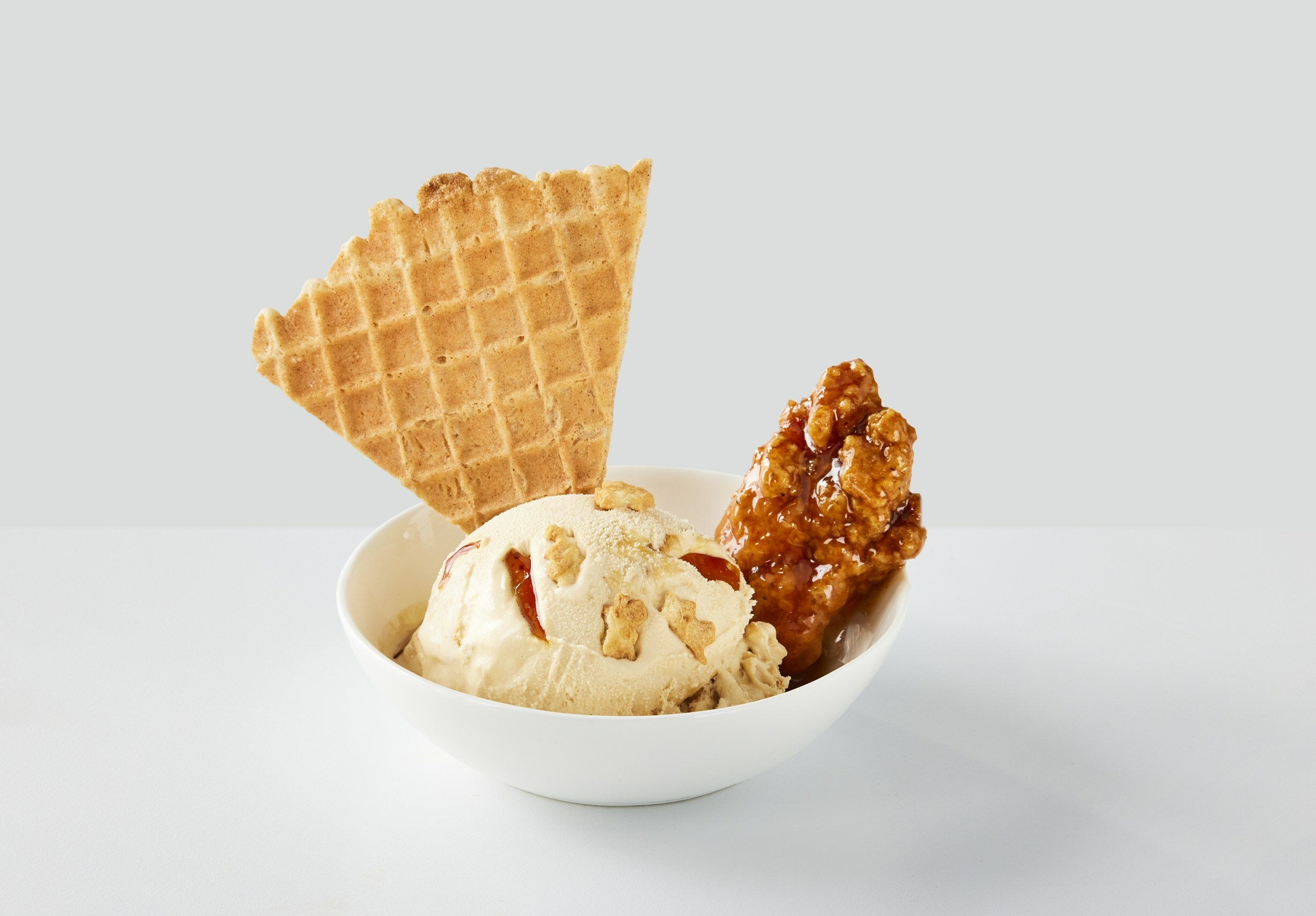 Inclusions can be savory or sweet, but presentation is always important

As summer approaches, it's time for operators to think about the ice cream creations and dessert ideas for restaurants their customers will be craving this year.

Ice cream has long been a popular snack or dessert during the warmer months, especially as children are out of school and families are enjoying vacations together. Although the category has evolved to include more inclusions and experimental flavors and ingredients, it remains at its core a nostalgic comfort food enjoyed by consumers of all ages.

Ice cream appears on 40.4% of U.S. menus, and is the third-most-popular dessert item behind cake and cookies, according to Datassential's Dessert Trends 2022 report. It often appears as part of another dessert—such as pie à la mode—but increasingly, ice cream is a base for innovative ingredient combinations and presentations.
That said, a challenging economic environment still hampers a return to pre-pandemic sales levels, and operators will need to demonstrate a dogged ongoing resourcefulness and bring fresh ideas to the table if they expect to thrive.
Hudson Riehle, senior vice president of research for the NRA, stressed the need for innovation. "Restaurant operators obviously have to look for creative solutions in this environment," he said. Pent-up demand is driving the need for greater operational efficiency and culinary creativity. While 84% of consumers surveyed would rather go to a restaurant than cook and clean, 47% of operators are bracing for intensified competition this year.1
Riehle expects innovation to drive an expansion of revenue streams, including subscription plans, meal bundles, prix fixe deals, meal bundles and branded merchandise like clothing.1
Affogato combines ice cream and espresso
One way restaurants have increasingly been incorporating next-level ice cream trends in dessert menus is with affogato, an Italian dessert that is conventionally made by pouring espresso over gelato, the lighter sibling of traditional ice cream. The gelato used is usually either vanilla or fior di latte—regarded as the purest form of gelato—but some chefs have experimented with other flavors of either gelato or ice cream as well.

Affogato has been growing as an ice cream menu idea for restaurants and is still in the "adoption" stage on U.S. menus, according to Datassential's Dessert Trends 2022 report.

"The temperature contrast causes the two ingredients to swirl together, creating something like a sweet coffee drink, but spoonable," according to Roadfood, a website dedicated to local restaurants.

The website suggests that flavored liqueurs such as Sambuca, Amaretto, or Grand Marnier are also sometimes poured onto affogato (which means "drowned").

At Annex Kitchen in Fresno, California, the affogato dessert is made with Ampersand Madagascar vanilla ice cream, espresso, and whipped cream, and served with a piece of biscotti.

One of New York City's most acclaimed ice cream shops, Caffè Panna, offers a variety of affogatos using its Italy-inspired ice creams, topped with the shop's signature whipped panna—Italian cream—from the Piedmont.
Mixing in savory flavors
Another ice cream menu trend impacting innovation in this category is the incorporation of savory flavors, from salt to bacon to fried chicken.

Last summer, for example, Portland, Oregon-based scoop shop, Salt & Straw, rolled out the Picnic Series, which included unique ice cream formulations such as Deviled Egg Custard with Smoked Black Tea, featuring salted egg yolk custard ice cream with Himalayan black salt, peach balsamic marshmallow fluff, and a smoked tea-infused shortbread crumble.

This ice cream "deconstructs the flavors and components of deviled eggs and churns out something mind-blowingly yummy," the company says in a blog post on its website.

Another flavor in the Picnic Series was Cinnamon & Honey Fried Chicken flavor, which featured croissant pieces deep-fried in chicken fat, mixed into vanilla ice cream with spices inspired by Ezell's Famous Chicken—known as Oprah's favorite fried chicken—according to Salt & Straw.

Salt & Straw's Baked Brie & Fig Cheesecake ice cream features fig jam mixed into salted ice cream with pieces of whipped brie cheesecake and a RITZ® Cracker crust.

This year, Baskin-Robbins joined the chicken-flavored ice-cream fray with a Chick'n & Waffles flavor ice cream, made with buttermilk waffle-flavored ice cream and crunchy bites with chicken-and-waffle flavoring, and a maple syrup-flavored ribbon. In addition, the chain partnered with sister brand Buffalo Wild Wings to offer the ice cream—which contains no actual chicken—with a real chicken wing and waffle at the South by Southwest (SXSW) festival.

Consumers have become more receptive to innovative ice cream trends and flavors, "but the key is to pair them with something familiar," the Baskin-Robbins' research and development team said in a statement.

"Our team loves to deconstruct desserts, but for this one, we decided to take a different approach and create a frozen twist on a sweet and savory iconic brunch duo that is loved by many," the team said.

When the Inspire Brands R&D teams met to discuss SXSW, chefs from Buffalo Wild Wings expressed interest in creating a mash-up using the Chick'n & Waffles flavor from Baskin-Robbins. Buffalo Wild Wings' chefs determined that their Honey Garlic flavor best complemented the ice cream.
Mix-ins for kids
While many of these ice cream trends appear geared for adults, it is important for operators to also keep their youngest customers in mind when developing ice cream offerings for the summer months. Rather than mixing ice cream with savory flavors such as chicken or deviled eggs, think about cookie and candy inclusions instead for restaurant ice cream menu ideas.

Bruster's Real Ice Cream, for example, recently combined cookies and ice cream in some unique combinations, including:
A blue vanilla ice cream with OREO® Cookie Pieces, crushed "dino" sugar cookies, and cookie dough pieces in a waffle cone;

Kids' Dino Sundae, made with vanilla ice cream, sprinkles, and a dino sugar cookie (shaped like a colorful cartoon dinosaur);

Kids' Dirt Sundae, made with vanilla ice cream, chocolate sauce, OREO Cookies crumbled to resemble dirt, and a gummy worm.
Sonic also recently rolled out an OREO Cookie dessert—the OREO Cookies & Chocolate Sweet Mini—a miniature sundae made with OREO Cookie Pieces and chocolate syrup drizzled over vanilla ice cream.

Ice cream trends offer a platform for dessert innovation—a nostalgic food loved by all that can be taken to new levels with the incorporation of the right ingredients. For more trends around ice cream innovation, check out our insights-packed infographic.